How to get to Agriturismo "Le Cetinelle"
Coming from Bologna and the north, exit the A1 motorway at Firenze Impruneta and follow directions to Greve in Chianti. After 20 km you will reach the centre of town and once you have passed the THIRD set of traffic lights, take the first left turn following signposts for Parco Naturale San Michele. The first kilometre is asphalted and from then on you are on a gravel road. After 4 km turn right just after the sign indicating "B&B Le Cetinelle" and continue for another 100 metres until you reach our car park.
Coming from Rome and the south, exit at the toll booth Firenze Sud and then take the direction to Greve. In the town of Greve, pass the THIRD traffic light and take the first road to the left (arriving from Siena along SR222, BEFORE the first traffic light, take the road to the right) in the direction Parco Naturale San Michele. After 5 km you will arrive at Le Cetinelle (first 1 Km sealed, the remaining 4 Km unsealed).
For the last few km, don't rely on SatNav but instead follow my directions carefully. "Le Cetinelle" is 5 km away from Greve and after the first km there are 4 km of unsealed road.
GPS coordinates for "Le Cetinelle":
Latitude: 43.582924, Longitude: 11.366453
GPS users, please note that many GPS systems show a route which is incorrect and points to an impassible route derived from Google Maps. Please make use of the our instructions above rather than relying on your GPS when you reach Greve.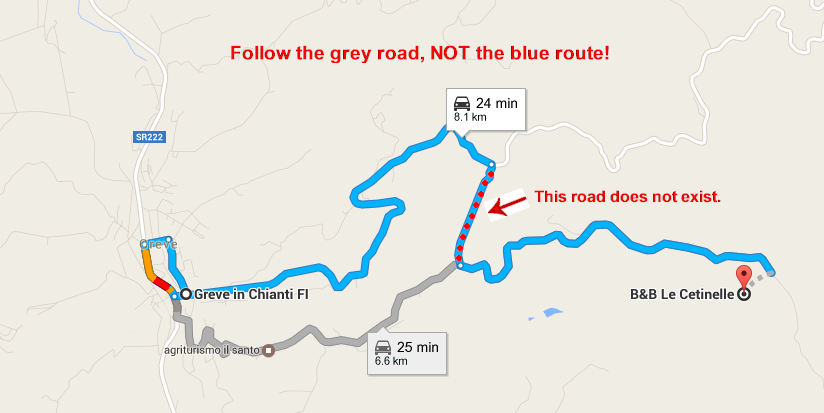 Simplified map
Download this simplified map in PDF format showing how to reach "Le Cetinelle" easily from Greve in Chianti.